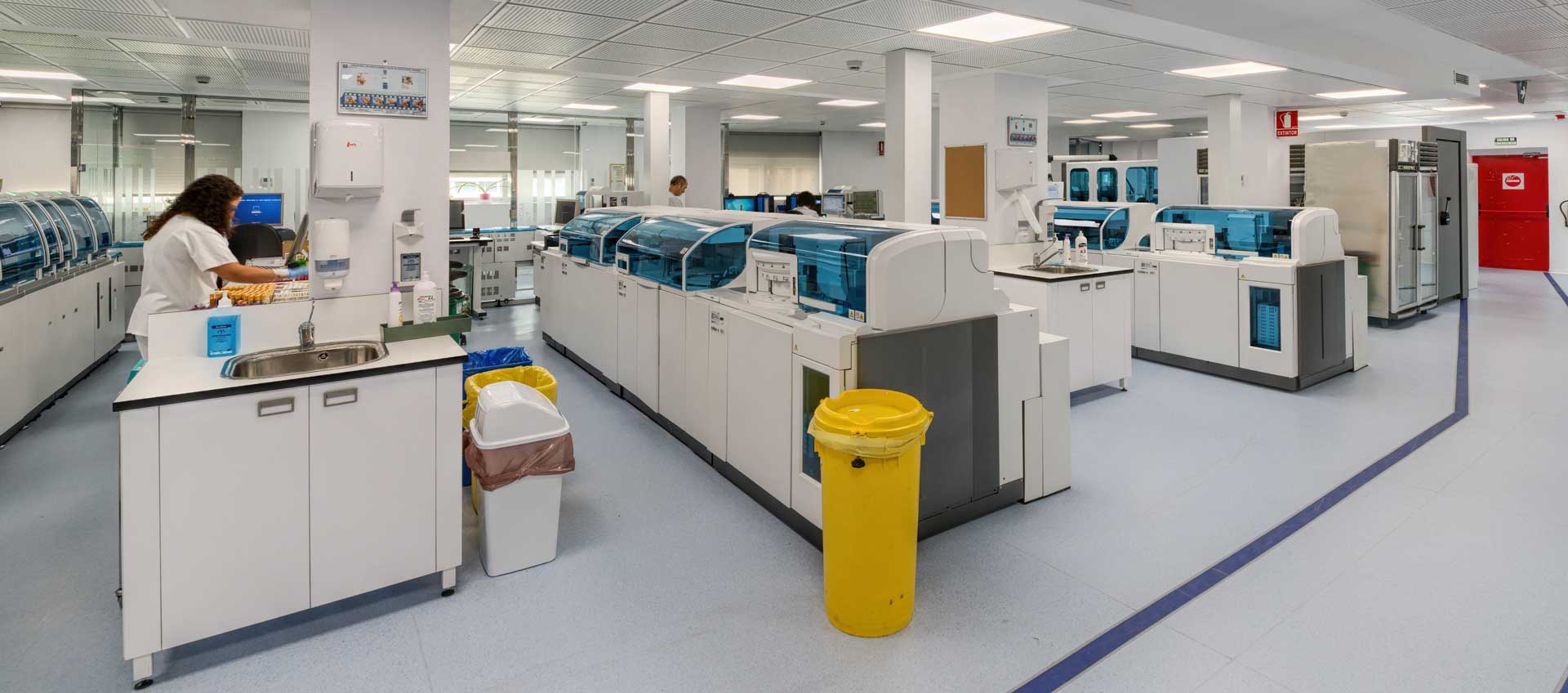 PHARMACY, VETERINARY AND COSMETICS
Hace más de sesenta años que más de sesenta empresas del sector farmaceútico, veterinario y cosmético confían en nosotros para llevar a cabo sus proyectos de ingeniería y arquitectura.
Gracias a ello, podemos acreditar la realización anual de más de 100 proyectos farmaceúticos de diversa índole.
Para llevar estos proyectos a cabo, disponemos de un equipo de trabajo especializado en proyectos en este ámbito y un know how acumulado a lo largo de los años.
BLUEPRINT AND CONCEPTUAL DESIGN
ESTABLISHING DESIGN CRITERIA:
Regulations to be followed
Product specifications
Production process
Estimated needs
Machinery for production and associated services
Necessary areas (storage, production, offices, laboratories, auxiliary production…)
List of rooms and requirements for each type of room
Urban parameters
Indications of suitable materials
Topographic survey and geotechnical study
MASTER PLAN, PRELIMINARY STUDY, AUDIT
CONVERTING THE BUSINESS PLAN INTO INFORMATION TO BE USED FOR THE DESIGN:
Products to be manufactured (prospects)
Volumes
Seasonality: distribution and consumption
Origin of raw materials and supplies
Description of manufacturing processes
Storage, dispatch and shipping of the finished product
Employees, shifts…
Information about the plot and the supply networks available
Predicted investment
SCHEMATIC DESIGN
DOCUMENTATION FOR PERMITS AND OFFICIAL PROCEDURES:
Project for obtaining works licence

Justifying report
Plans
Justification of regulations

Project for obtaining environmental licence
Project for fire protection
Requests made to supplying companies
Necessary permits from local communities and neighbours and neighbours' associations
Budget by section
Estimate of planning
FINAL CIVIL WORKS, ARCHITECTURE AND BUILDING SERVICES PROJECTS
DESIGNS FOR TENDERS AND CONSTRUCTION:
Construction documentation: details of the construction solutions to be used for each purpose (architecture, structure, HVAC, liquids, electricity, ICT…)
A project for each area:

Reports
Plans and diagrams
Calculations
Planning
Bill of Quantities

Tender documentation:

Planos y esquemas con detalles constructivos por fases
Plans and diagrams with construction details for each phase
Status of BoQ, with detailed, comparable headings
Technical and administrative contract specifications
Planning
ENGINEERING OF PROCESSING EQUIPMENT
DESIGN AND INSTALLATION OF PROCESSING EQUIPMENT:
Preparation of User Requirements specification (URS).
Search for suppliers.
Analysis of technical proposals received.
Technical comparative report.
Analysis and validation of protocols of manufacturers' tests (FAT and SAT).
Supervision of FAT.
Supervision of SAT.
TENDERING FOR CIVIL WORKS, ARCHITECTURE AND BUILDING SERVICES
SELECTION OF THE CONTRACTOR AND AWARDING:
Decision on the number of lots to tender
Support and information for bidders

Identical information for all bidders
Clarification of doubts
Visit to the site

Comparison and revision of bids and requests for anomalous prices
Second phase of tendering for improvement of offers
Comparison of bids
Recommendation for awarding
Support in the drafting of the contract and its negotiation
CONSTRUCTION MANAGEMENT
QUALITY, COSTS, AND DEADLINES CONTROL ON SITE:
Organised management of works so that they are carried out correctly and under the correct conditions
Coordination of works in order to meet deadlines and avoid interferences
Approval of the documentation presented by the contractor
Revision and validation of the certificates before they are sent to the Client
Quality control of materials and execution
Control of costs and planning
Coordination of the delivery of the processing equipment
Management of the creation of the as-built documentation, prepared by the contractor.
Presentation of the final documentation
LAUNCH AND COMMISSIONING
SUPPORT AT THE BEGINNING OF THE OPERATIONS:
Creation of the documentation for FOL or similar procedures
Support with the starting of the machinery
Support during the testing
Creation of a data bank of the project (certificates, manuals,
recommendations for use and maintenance, plans…)
LICENCES AND PERMITS
OBTAINING OF THE DOCUMENTATION TO GUARANTEE THE LEGALITY OF THE ACTIVITY:
Guarantee that the licencing rules and regulations are met

Require certificates that show compliance with certain specifications (legal, quality, etc.)

Guarantee the provision of manuals and staff training

Provision of as-built documentation

Maintenance plan
VALIDATIONS AND QUALIFICATIONS
CUMPLIMIENTO DE GMP /GLP FARMACÉUTICAS:
Masterplan of validaciones (MV)
Cualificación de la documentación (DQ)
Cualificación de la instalación (IQ)
Cualificación de la operación (OQ)
Cualificación del rendimiento (PQ)
Calibración
PHARMACEUTICAL CONSULTANCY
AUDIT
UNDERSTAND IN ORDER TO FORESEE.
MEASURE IN ORDER TO IMPROVE.

General audit plan
One-off or periodical audit of specific areas or phases
Audit and certification of suppliers
Audit of activities subcontracted to third parties
Audit of management systems
CONCEPTUAL DESIGN
OBTAINING THE IMAGE:
Conceptual design of production (vertical, horizontal)
Process diagrams
Flows of materials, people and products
Planning of activities
Estimation of costs and deadlines
GMP and legal requirements
COMPLIANCE WITH REGULATIONS
COMPLIANCE:
Evaluation of the level of compliance with the current regulations
Changes and adaptations to comply with the regulations
Preparation of the documentation for official type approval
TELECOMMUNICATIONS AND INFORMATION SYSTEMS
CORRECT USE OF ICT:
Analysis and design of information systems

PM of ICT systems

Programming services

Telecommunications consultancy

Systems audits

Management of systems for the development of information systems
SYSTEMS FOR MANAGEMENT OF QUALITY AND THE ENVIRONMENT
RESPONSIBLE MANAGEMENT:
Assessment of level of compliance with regulations ISO 9001, ISO 17025, GMP, GLP…
Evaluation of environmental risks
Integration of the requirements laid out in ISO 9001, ISO 14001, and EMAS into the management system
Creation of manuals for quality, the environment and documentation control systems
TRAINING
LEARNING TO OPERATE:
General knowledge of regulations
Familiarisation with GMP, GLP, hygiene regulations, regulations specific to products, storage, production, maintenance…
Training in quality and environmental systems
Training in the development of documentation systems
ICT training
Central Barcelona
Via Augusta, 4, 08006 Barcelona
Teléfono: 932 17 56 54
Delegación Madrid
Paseo de La Castellana 259 C,
Planta 18; 28046 Madrid
Teléfono: 918 893 745